Divine Fortune Slot Review
The Divine Fortune slot, released in January 2017, is one of the best slot machines that NetEnt have ever released. Right from the word go, we were enthralled by this game. If you are looking for a new slot to jump in on, then this is the one that you will want.
How to play Divine Fortune Slot
There are 5 reels and 20 paylines on the Divine Fortune online slot. The minimum bet on the machine is 20p per spin. The maximum bet is £100 per spin. This is very much standard fare for NetEnt now. We love the fact that they have gone down this route. Far too many slots have high minimum bets nowadays, and this is not all that fun when you are a beginner to slot machines! You want something which has a low minimum.
This game is based around the Ancient Greeks. So, you will be able to enjoy symbols such as Nemean Lion, Minotaur, Phoenix, and Medusa. Honestly, NetEnt have always been 'gods' when it comes to the design of their slot machines. This one takes it to a whole new level. The Divine Fortune slot has been hyped up for a long time. It lives up to this hype too.
Even before you dive into the wealth of features that the game boasts, you will be able to enjoy the aesthetic appeal of the slot. It looks gorgeous, and we do not feel as if there is anything that even comes close to what this slot boasts.
The slot is simple to understand too. It is clear that one of NetEnt's main intentions with this slot was to pull in new casino players, and we feel that this is something that they have accomplished well. We have recommend this game to a lot of people, and everybody loves it, even if it is the first slot they have ever jumped into.
Bonus Rounds & In Game Features
There are four features to be found in this slot, none of them are that difficult to understand, but we figured it would be best to highlight them, just so you know what you are getting into with the slot!
Falling Wilds Re-spins: The first is the Falling Wilds Re-Spins. This occurs whenever you get a wild on the reels. The wild will shift down a position. You will then get a free respin. This will happen until all of the wilds disappear from the reels. This is a very lucrative feature if you get new wilds on the reels during the re-spins.
Wild on Wild: this is a feature which can occur in the base game and during the free spins feature (more on that soon). This happens when an overlay wild lands on a wild. The wild will then expand over the whole reel. This can drastically increase your chances of winning. After all, there is nothing most of us like more than expanded wilds (well, other than free cash being handed to us on a plate).
Free Spins: this feature pops up when you get 3 or more free spins symbols on the reels. You will get at minimum 5 free spins. If you get 4 symbols, you will have 8 spins. If you get 5 symbols, you get 12 spins.
Jackpot Bonus: the final feature occurs when you get 3 or more bonus symbols. You will be taken to a whole new set of reels where you can earn up to 200x your initial stake!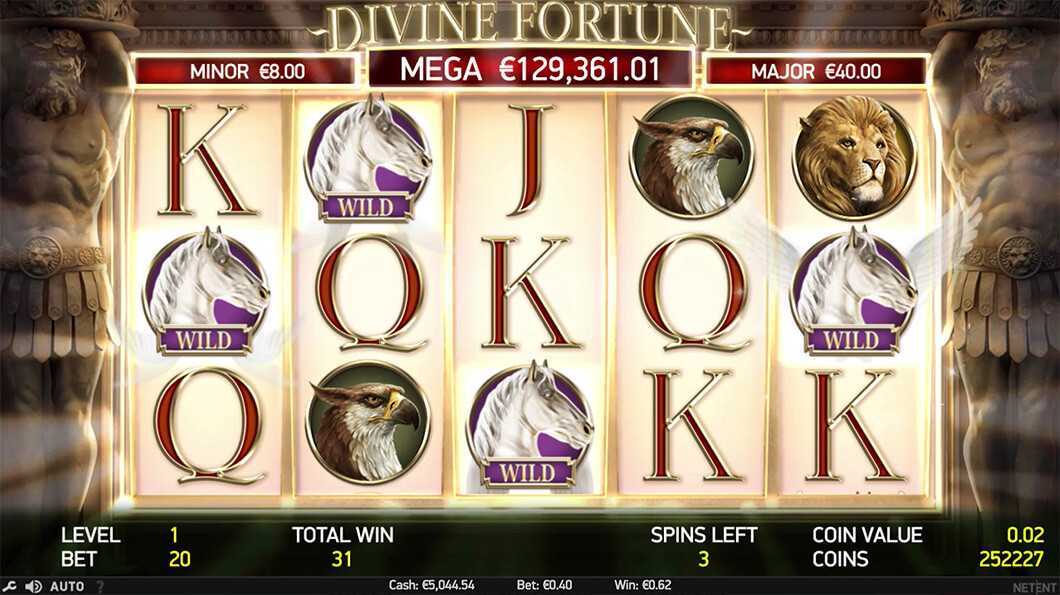 Divine Fortune Mobile Slot
NetEnt have always been great when it comes to mobile slots. They have taken this to a whole new level with the Divine Fortune mobile slot. We played this for a good couple of hours, and we very quickly found that it was one of the best-designed mobile slots that NetEnt has produced. This is really saying something too, particularly when you factor in the fact that NetEnt have always been great at mobile slots!
Summary
This is a fabulous slot. Not much more we can say about it really. Divine Fortune is aesthetically pleasing and offers a whole load of fun for its players. Honestly, we can't think of a better slot machine to be released in the last six months.
This is one of the newest slot machines from NetEnt. This means that there are very few casinos out there that offer it right now. Don't worry if you are unsure of where you can play. The team here at Best Casino UK have your back! We have put together a list of some of the best casinos to play at. Check out the list below.
Other Top Casinos Where You Can Play This Game...