Mega Fortune Dreams Slot Review (Netent)
The Mega Fortune Dreams slot is very aptly named. After all, most of us dream of making millions of pounds, right? This slot machine gives you the opportunity to do so, and you can have tons of fun along the way!
How to Play Mega Fortune Dreams Slot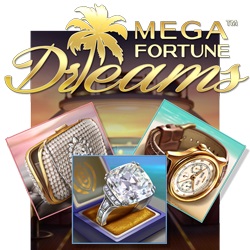 There are five reels and 20 paylines on Mega Fortune Dreams Slot. The minimum bet per spin is 20p, the maximum bet is £80. It is worth noting that this is not the first slot machine in the Mega Fortune line of progressive slots. There are some people out there who claim that the chances of winning on this machine are lower than in previous versions of the game (not talking about the jackpot here), but we do not really see it.
The Mega Fortune Dreams is a massive upgrade from Mega Fortune Slot in the 'graphics' department. It sort-of looks the same but, in our opinion, the graphics are of a higher quality. Other than that, the game is fun in the way it functions and the like. Basically, if you enjoyed the normal Mega Fortune slot, then you are going to enjoy this one too. We promise you of that!
Mega Fortune Dreams is a progressive slot machine. For those who are unaware, a progressive slot is a machine which has a rather hefty jackpot. In this game, it is common for the bonus to reach the millions of pounds. The more people that play the slot, the higher the jackpot creeps.
As this is a progressive slot, you can expect it to be simple to play. After all, it relies on as many people playing it as possible. The more people playing Mega Fortune Dreams, the higher the jackpot creeps. Basically, the simplicity works to your benefit!
Bonus Rounds & In Game Features
There are several features to be found in this game:
Wilds & Wild Re-Spins: The wild symbol is a palm tree. As with other slots, it can act as a replacement for every symbol in the game bar the bonus and scatter. If you get three of them on the reels, they will be 'stuck' in place and you get a free re-spin!
Bonus Game: if you get three or more bonus symbols then you will be given the opportunity to win the jackpot. You will be asked to spin a wheel. There are multiple levels to get through. If you get to the end, you will be a millionaire!
Free Spins: three scatters will give you 10 free spins and a 3x multiplier. This is where the game differs from the previous version. That only gave you a 2x multiplier! You are able to earn more spins if more scatters appear. The multiplier can also creep up from time to time. The highest multiplier we had was 5x, combined with 20 extra spins!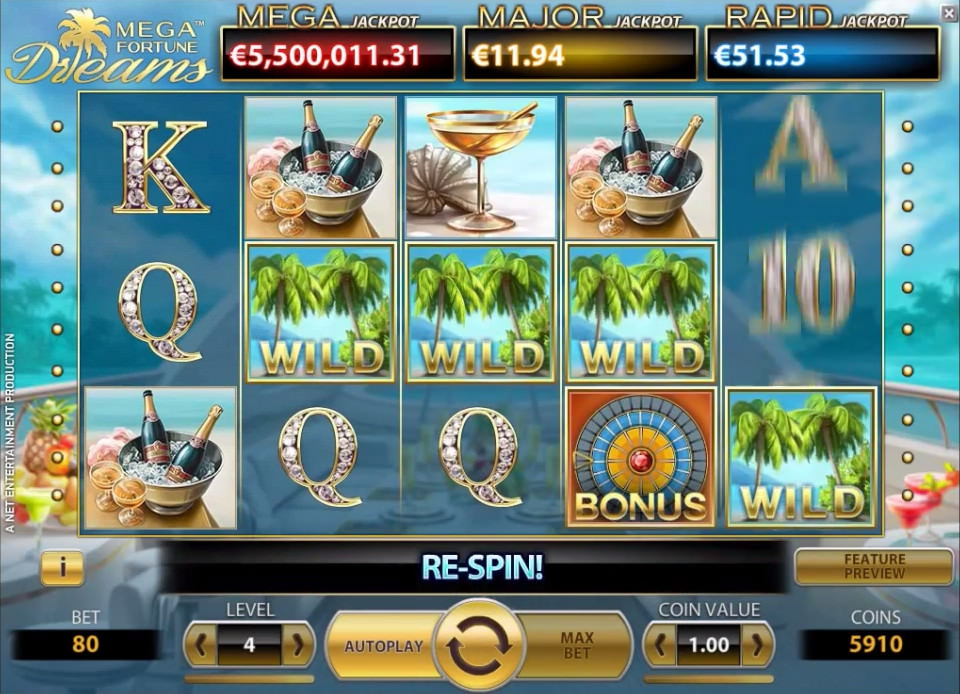 Mega Fortune Dreams Mobile Slot Machine
NetEnt have always been brilliant when it comes to creating mobile slot machines. They really pulled out all the stops with this slot machine. They had to. This is a progressive slot, which means that it relies on as many people playing it as possible. If you want the possibility to win millions of pounds on the go, then this is the machine that you want!
Summary
This is one of our favourite progressive slot machines. There are a few reasons for this. First and foremost; it is fun to play. You do not really get that with progressive slots. Most progressive slots seem to be about the 'end goal' of winning a ton of cash. Not this one.
This is all about having fun as you get there. This is important. After all, it is unlikely that you are ever going to win the jackpot, so you need to have fun. The other major benefit is that it just looks good. Again, something you don't really get with slots in this day and age. Therefore, we have no hesitation in recommending Mega Fortune Dreams.
You can play the Mega Fortune Dreams slot machine on any website which offers NetEnt games. It does not really matter too much about where you play it as the jackpot is shared. However, we do urge you to play on some of the better online casinos around. It will make your life a whole lot easier! We have put together a rather nifty list that you can dive into below.
Where To Play Mega Fortune Dreams Online Slot